'Be nice. The end. Simple Wisdom of the Playground Kids' is now available
An unlikely pairing between two strangers produced a book on the virtue of being kind.
Wayzata artist Wendy Shragg first heard about Bryan Skavnak, a young golf coach and motivational speaker / writer living in Brooklyn Park, from a mutual friend. After checking out his Instagram feed @BeTheNiceKid and learning about his Be the Nice Kid program, Shragg became even more curious.
"How does someone who is a golf instructor end up with an Instagram feed with all these followers? What is the magic potion? Shragg wondered. "And so I contacted him. We had a pleasant conversation and in the end we left things open. "
A few months later, in May 2020, Shragg one day woke up with an idea: to use his drawings and Skavnak's words to write a book centered on the virtue of kindness and compassion.
"I said, let's do it. I'm in it, "Skavnak said. "It was an easy answer."
"We both had the same vision for this book, which was wonderful," said Shragg.
During the many months of the COVID-19 pandemic, the couple collaborated virtually on FaceTime. Together, they developed a 144-page exploration of the playground as a microcosm of the world – all told through the wisdom of children as they interact, try to get along, and seek to find a place to belong. Messages about inclusion, empathy, acceptance, perseverance, perspective and kindness make up the book, which is titled "Be Nice. The end. Simple wisdom of the children of the playground.
Skavnak said he hopes the book will demonstrate to readers of all ages the importance of being kind to each other. The message comes to life with Shragg's illustrations, each depicting an only child.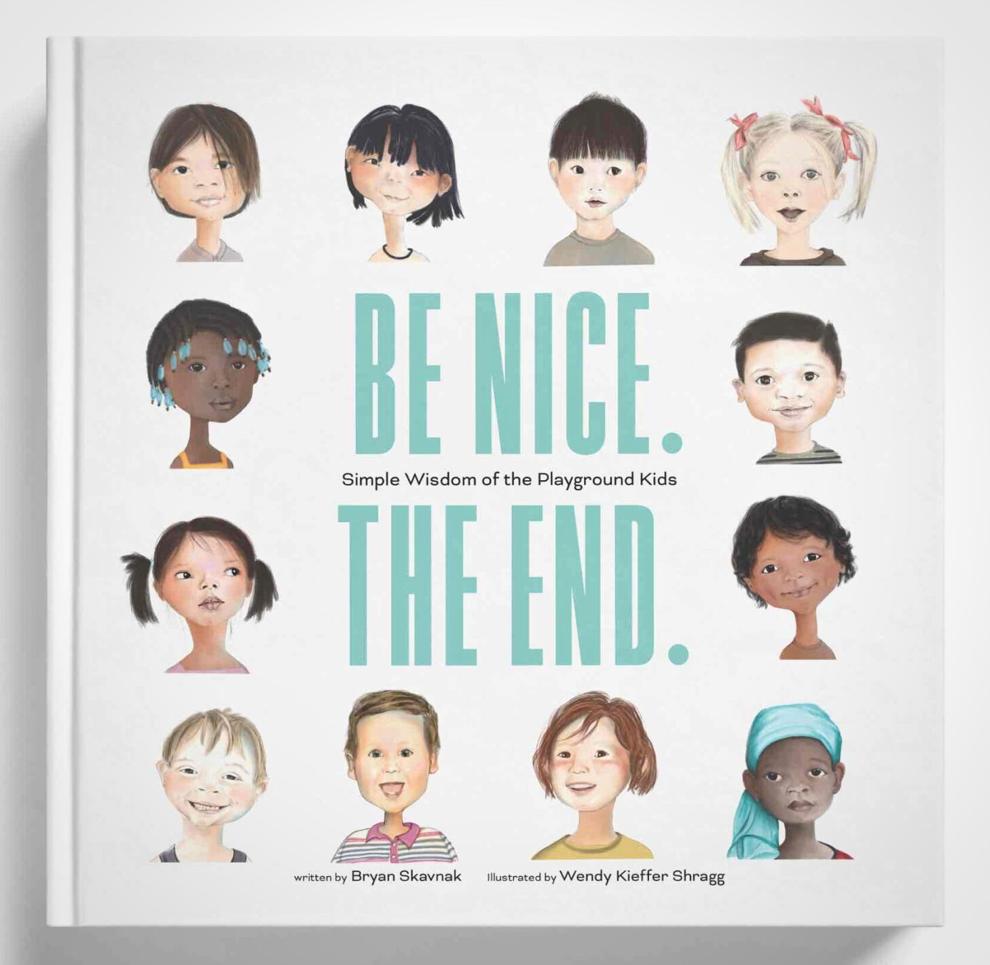 For Shragg, who had worked primarily in abstract and mixed art, it's surprising that she helped create a book made up of illustrated faces. As an artist, she had long avoided trying to portray faces for fear they would be deemed inaccurate. But in 2018, as part of # The100DayProject on Instagram, Shragg challenged herself to share posts of her work for 100 days. On day 34, she wanted to share something completely new: a fictional young friend who would become the introduction to her "Playground Kids" series.
"I had a lot of comments on this, and the next day I posted another and continued.… They were coming from a place deep in my heart," the artist said. They each have a story.
During the development of the book, Shragg sent a sheet of illustrations to Skavnak so that they could try to match each post with one of the "Playground Kids".
"The book itself is not a storybook. … It's more intended to be a tabletop book, "Shragg said. "It is intended to be appreciated on several levels: as a work of art, as a learning tool and as an openness to discussion. … and it's not something that's right for the kids. It's definitely for everyone.
For Skavnak, the book is one more way to share the positive and inspiring messages he had already conveyed to classrooms and school assemblies with his Be the Nice Kid program.
"(The book is supposed to) show people that it's not hard to be kind to each other. Sometimes people just need a little push to do it," Skavnak said. "You can be a lot of different things, but kindness has to be part of that thing too."
Copyright © 2021 at the newspapers of the sun. Digital distribution of this content without prior written consent is a violation of federal law and may be subject to legal action.
Source link